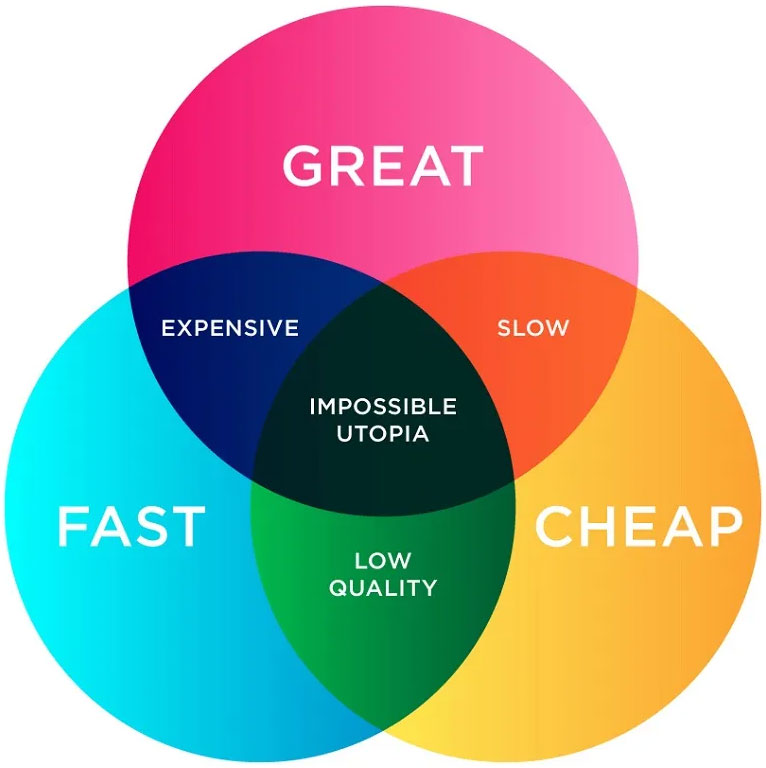 When creating and designing a new website, one of the most frequently asked questions among business owners is "How much is this going to cost?".
The diagram above is a fun way of guessing the price, speed of delivery, and quality. Great, Fast, or Cheap – you can only choose two.
All jokes aside, if you ask ten different web design firms, you'll likely get ten different answers.
There are a lot of variables that go into a website project and each will affect the cost. In this article, we'll explore some of the key factors that your business will need to consider when investing in a new website.
To start, we need to acknowledge that the world of web design is like the wild west.
Anyone can declare that they have the skill and experience to deliver a professional business website. This includes your tech-savvy nephew, people that took a 4-week boot camp course during Covid, and professionals that have years of experience.
While it should be easy to weed out amateurs from professionals, the water gets muddied because everyone uses the same language to describe what they do.
For some businesses, a cheap and cheerful solution is OK… especially if you're just starting out. However, if your business is established, or you have a budget to work with, hiring a professional will often yield a much stronger return on investment.
Variables that affect website cost
Size & Complexity
Building a website is like building a house. A small house with a few rooms is less of an investment than a large family home. Websites are similar. If your website requires a lot of pages, that will increase the investment. The same goes for complexity. If your website requires some more advanced functionality (eg. E-Commerce), that is a bigger project than a basic brochure-styled website.

Design
What type of design will your business have? A custom proprietary design, or a reusable template? A custom design is a bigger investment – it will be unique to your business and include an on-page strategy designed for your exact needs*. A template on the other hand can be purchased for a very small amount, however you're often working with something that was designed to be generic. This means you may not get the right strategy and thousands of other businesses could be using the same design – even a competitor.
*The skill level of the designer or firm will determine how effective this is.

Content Creation
Your website content will consist of text, images, and videos. Creating this content can be expensive depending on what you need and who is producing it. A professional writer will cost more than a hobbyist. The same goes for photography, graphic design, video editing, etc. Some business owners are comfortable writing their content, while others are busy running their businesses and prefer to have everything taken care of for them.

Platform & Technology
These days, virtually all sites use some kind of back-end software to power the public-facing website. There are well-established platforms like WordPress and Shopify which are robust, scalable and offer nearly unlimited customizations. There are also a lot of DIY/no-code solutions that offer a lot of features but are more limited in capability. DIY platforms tend to cost less due to the nature of the solution, but that also comes with limitations in what is possible to achieve.

Integrations
It's common to integrate business websites with other software, such as CRM, marketing tools, payment software, etc. Some integrations are easier than others while some require additional 3rd party tools. The complexity of the integration can increase the cost of the end deliverable.

Website Hosting
Website hosting is a necessary aspect of any website. This comes with a monthly or annual cost. Selecting the right hosting provider/server is critical. The easiest way to understand this is to think of a computer. Some computers are more powerful and have greater capabilities than others. The same goes for your hosting server. It's easy to be tempted by a low-cost server, but that can lead to slow-loading websites, faulty security, and scalability limitations.

Freelancer or Agency
As indicated at the beginning of the article, there are many providers able to build a deliver websites. The quality and skill of these providers vary. Some providers are independent/freelance, while others are part of an agency. One is not necessarily better than the other. There are plenty of freelancers that produce work that rivals large agencies. Agencies can often cost more due to increased overhead, but there is no exact formula for which is going to cost more.
When making a decision, it's good to research the provider to identify if they have the right qualifications, skills, and experience to produce the result you're looking for. Review their portfolio, check reviews and testimonials, and look them up on LinkedIn and other social networks to get a feel for how long they've been around and what level of credibility they have. It also helps to identify what their core offering is.
As an example, many firms have a primary service offering that is not websites. This could be marketing, print design, or even I.T. providers. If their goal is to sell you their primary service, the website you receive may be an afterthought. This is an important factor in decision-making.

How much does Pixel Perfect charge for a website?
When creating a quote for a project, we'll take into consideration all the factors laid out in this article. We'll look at your business, objectives, and unique needs to build a quote that reflects the goals established for the project. Small credibility websites can start as low as $5,000.
Interested in finding out what your project is worth?
Get in touch with us today to learn how Pixel Perfect can help provide a business-forward website that is strategic, beautiful, and optimized to deliver the results that you're looking for.